MRSAY! Newsletter January 2018 EDITION
 In this Edition:
-President's Message
-2017-19 Collective Agreement
-Communications Committee
-Karen's Korner
MRU General info and events
Be sure to check the MRSA Events Google calendar often to stay informed about the various events and activities taking place on campus.
President's Message:

Baset Zarrug
2018 has just arrived. It is a special year for the Association, it marks the 40th year for the Association to co-exist to serve us on campus. For the last 40 years, both the MRSA and the University have evolved to become more complex organizations in their way; however, they remain true to their values.
Looking forward to an exciting 2018.
Baset Zarrug
 2017 – 19 Collective Agreement

We are pleased to announce that both the Mount Royal Staff Association and the Board of Governors have ratified a new MRSA/BOG Collective Agreement to be effective July 1, 2017 to June 30, 2019. We anticipate that the final version of the new Collective Agreement will be finalized and available by mid-February.
We would like to thank the members of both negotiating teams for their hard work to reach an agreement. We look forward to working collaboratively to uphold the 'spirit and the letter' of the agreement and towards our shared goal of enhancing our work environment, as we provide an exceptional undergraduate experience for our students.
Communications Committee
We're pleased to officially announce the MRSA's new Communication Committee!
This team of staff from all over campus have an impressive collective background in communications, and we are so excited to use that experience to keep the MRSA membership consistently informed, and maybe even also entertained. We are:
Brenda Black – Nursing & Midwifery
Katie Cross – Continuing Education
Karen Hiebert – Nursing & Midwifery, MRSA vice president
Katelyn Gillies (Chair) – Continuing Education
Tara Grams – Psychology
Ashley McLellan – Residence Services
James Parsons – Alumni, MRSA director-at-large
Kelsey Santiago – Enrolment Services
Chad Wilson – Career Services
What can you expect from us?
You might notice some changes in the MRSAY! newsletter this year. Keep your eyes open for these exciting developments.
We want to hear from you! Stay tuned for information on how you can help us improve communications.
Questions and comments for our committee can be emailed to mrsacomms@mtroyal.ca. You can be sure you'll hear back from us, so don't be shy about reaching out.
Kelsey Santiago, MRSA Communications Committee
CTV news did a segment on a blue whale heart that is currently at Telus Spark on a tour and in Calgary as its last North America visit. I was absolutely transfixed as a lady stood beside the 400 pound heart and made a fist. Her fist was representing the size of a human heart. WOW! But then considering the size of a blue whale, which is the largest living creature on the earth, it really should not have been such a huge surprise to me.
This particular female blue whale is a wee bit more special as it did not sink to the bottom of the ocean when it died as is typical, but was washed up in Newfoundland in 2014. It was a massive 76.5 feet long! (There is also a tragic story here as this was one of nine blue whales that died in the area after being trapped in ice.)
It took three years to complete this massive project of plastination (i.e., as done with Body Worlds exhibits). This heart stands approx six and a half feet tall and beside it is a whale skeleton called Blue, also recovered at Newfoundland around the same time. Photo below is from the Royal Ontario Museum exhibit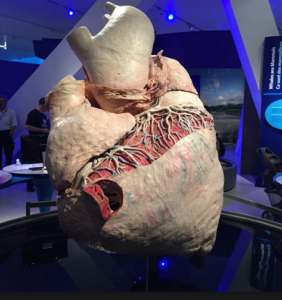 Totally off whale heart topic but now onto a human heart….my best friend since I was 10 years old almost died on Jan 5 after a heart attack. There were major complications after a triple stent surgery. No blood pressure and no red blood cells at one point equaled one terrifying week for all. The good news is that she is back at home and she is slowly recovering…. and her & her husband have quit smoking (they were 2 pack a day smokers).
People often wonder why I hug so much, and why I say I love you all the time to my two sons and my Mom. It is because I wear my heart on my sleeve and I feel it is important to let others know I care and that they mean something special to me. It costs me nothing, and gives me joy as I share my joy and happiness with those who mean a lot to me. The really special times are when I meet up with my sons' friends and am greeted with a big hug from them.
Hug a loved one today and say you love them.
Tomorrow is not a guarantee.
Cheers
Karen Hiebert
Check your MyMRU Events Calendar for upcoming MRU events, courses and workshops. And be sure to add MRSA events to your Google calendar to stay informed about MRSA events and activities.


The Working Mind (TWM)
February 5 | 1 p.m. – 4:30 p.m.
or March 7 | 8:30 a.m – 12 p.m.
Workplace Mental Health and Wellness is an education-based program designed to promote mental health and reduce the stigma of mental illness in a workplace setting. Goals of the training are to support the wellbeing of employees; to enable the full productivity of employees; to ensure the workplace is respectful and inclusive of all employees; and to encourage employees to seek help when needed.
Register or learn more here
Strong Passwords Made Easy
February 13 or March 7
Is your password crappy and you know it? Do you know that you need to make it stronger but struggle with remembering complicated passwords? Do you use the same password over and over again because it is just easier? Then this mini-workshop is for you. In 30 min learn how to create strong, easy to remember passwords, how to safely store and remember all your passwords and what turn on two step verification is.
Please note: The content in this mini-workshop is taken from the Protecting Yourself Against Cyber Crime workshop.
Visit the employee training portal today to sign up.
New Employee Orientation
February 22 | 12 p.m. – 1 p.m. | B220
The MRSA is looking to connect with new employees. If you are new to MRU this ​orientation is for you! Join us for a 25 minute presentation followed by a Q & A. Please encourage any new colleagues in your area to attend.
​
Register here.
MRSA Professional Development Day
May 2018
Your PD Day Committee is hard at work planning this year's event. Details coming soon!